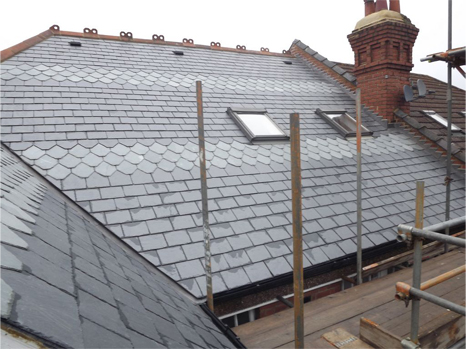 Slating Experienced Slaters in London
Slate is as old as the planet we live on and it has been quarried and split to provide roof coverings for hundreds of years. British slate, predominantly from North Wales and Cumbria, has a reputation for being the best in the world. It is not uncommon to find a British slate roof still in perfect condition up to 200-years after it was laid. Slate is a fine-grained, homogeneous metamorphic rock derived from an original shale-type sedimentary rock composed of clay or volcanic ash through low grade regional metamorphism. Slate is a totally natural product that has been used for centuries. Slate has two lines of breakability – cleavage and grain – which make it possible to split the stone into thin sheets. When broken, slate retains a natural appearance while remaining relatively flat. Slate had been used for building since Roman times. It was used in the Roman fort in Segontium, Caernarfon, as well as Edward I's castle in Conwy. But it was not until the 19th century that its use expanded considerably as it was adopted as the main roofing material of the industrial age.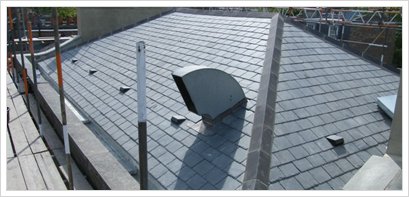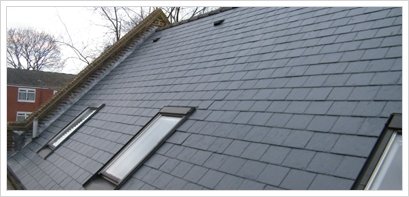 Wales produced more than four-fifths of all British slate in the 19th century, with Caernarfonshire the biggest producer of all Welsh counties. Unfortunately, there is no longer sufficient indigenous slate quarried to meet the demand. Most natural roofing slates used in the UK are now imported, principally from Spain but increasingly from, Brazil & North America.
The common choice of slate fitted today is the Spanish slate. It is quarried using the latest extraction techniques, in the North Western area of Spain. The natural slates are hand split by experienced craftsmen to produce slates consistent in thickness and texture which are chamfered and pre-holed prior to shipment to the UK.
Alternatively, there is a wide selection of composite and slate look-alike products, which have the aesthetic appeal of natural slate. Often (but not always!) cheaper than the natural product, composite slates tend to be faster to fix and require less specialist skill to lay – yet they can still replicate the clean lines and natural beauty of a real slate roof.
When fixed by one of our teams of skilled slaters, a composite or natural slate roof will enhance the appeal and value of a property.