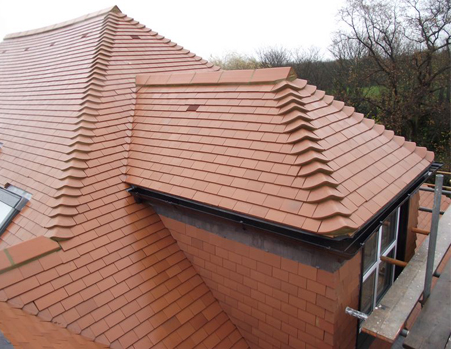 Tiling, Clay and Concrete
Ever since the 13th century, clay roof tiles have added a tapestry of rich colours, shapes and shades to both the rural and urban built environment.
Clay roof tiles have played a significant role in the historical development of architecture. The Romans were the first to make and use fired clay tile roofing in this country, and museum collections now bear witness to the widespread employment of this material.
In the medieval period, the revival of the craft took place first along the eastern seaboard, where contacts with the continent were strongest and provided a strong, fire-proof alternative to thatching. In 1212AD, King John issued building by-laws for London to eliminate combustible roof coverings and replace them with tiles. Since that time, clay has been a highly sought-after material.
By the 18th century, tiles had become the standard roof covering wherever there was an abundant local supply of suitable raw materials, a source of fuel and a thriving craft tradition. The production of clay tiles began as a very small scale industry, with many districts having only one source of supply. Over time, roofers developed their own construction detailing and distinctive methods of laying roofs that provided their neighbourhoods with a distinctive local appearance and an indigenous form of building.
The process of industrialisation and the improvements to the national transportation network in the 19th century led to a widespread use of machine made, through still distinctive, clay roof claddings.
Clay roof tiles are a beautiful and understated legacy from the past that continue to echo generations of craftsmen's skills in fashioning rich and colourful roofscapes out of common clay. Generations to come will still be able to enjoy the aesthetic beauty of clay.
We install hand made and machine made clay tile in various colours to suit all requirements.
A more cost effective option would be a concrete tile.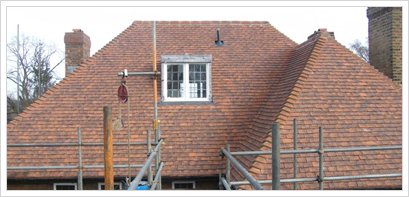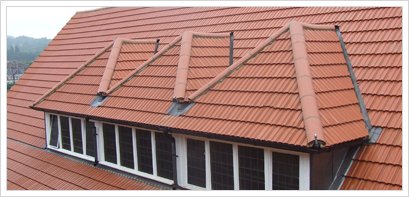 When concrete tiles were first introduced into the UK in the 1920s, they failed to become popular, but after World War II when the huge rehousing programme was started, demand rapidly took off. It is during this era that Britain's roofing story diverges from that of other Western European countries. Whilst we in Britain invested in ever faster and more automated production lines for concrete tiles, other countries did the same for clay tiles.
Furthermore, in the 1960s concrete tiles appeared in a larger format than hitherto. They were much more regular in size and shape than clay tiles and therefore favoured by contractors as being easier to fix on the roof.
The concrete interlocking roof tile is easily the most widely used roofing material in the UK. Easy to produce, consistent in quality and simple to lay, the concrete roofing tile is available in patterns and colours. It can be seen on modern developments the length and breadth of Britain.