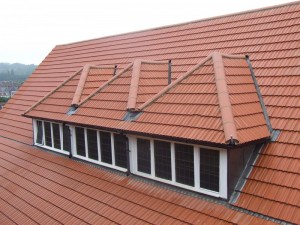 Tiling
The variations of the present days roof coverings stems from British history. The 1666 Great Fire of London, saw the banishment of thatched roofs in the city, leading to the widespread use of clay tiles. The Romans initially made and used fired clay tile roofing in this country; however, revival of the craft took place in the medieval period as they provided a strong, fire-proof alternative to thatching.
Clay roof tiles are a beautiful and understated legacy from the past that continue to echo generations of craftsmen's skills in fashioning rich and colourful roofscapes out of common clay. Generations to come will still be able to enjoy the aesthetic beauty of clay.
However, the shortage of coal fired clay tiles after the First World War saw the use of concrete roof tiles rise as they became extremely popular in re-roofing properties post -Blitz London where they were used to re-roof over a million damaged properties.
For post-war architects and engineers in the twentieth century, concrete offered the flexibility, strength and economic benefits needed when rebuilding homes and expansion in Britain began.
Concrete tiles are still used today, as they are easy to install and are a cost-effective tile option; however, we have seen a rise in Homeowners wanting to reinstate the natural characteristics of their properties and find that Clay tiles and natural slate options are becoming more popular and favourable.
The lifespan of both clay and concrete tiles is comparable; manufacturers usually supply a 30-year warranty, although in the majority of cases both clay and concrete tiles will last twice that. However, the lifespan of the tiles will depend on how well the roof is maintained over the course of its lifespan and the general weather conditions the tiles are exposed to.
Whilst cement tiles are found to absorb water at a faster rate, neither clay nor concrete is a high maintenance material.